---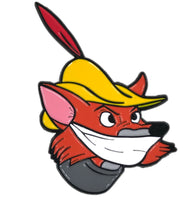 My Favorite Pin So Far!
Was really happy to have found this pin on the online store after not seeing it on display at Chicago Pride! I love foxes and BDSM so this was a no brainer! Awesome detail and the colors are vibrant! Now if only they had a Maid Marian lol
Nostalgic AND Sexy!
Super Appreciative of the variety of Geeky and Kinky! WHO DIDN'T HAVE A CRUSH ON ROBIN HOOD?! This pin was a should I/shouldn't I for a minute - but so glad I did!
I can't wait for more! @CTubb661 on Twitter