---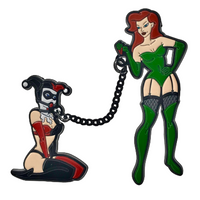 Girls will.be girls
This is a sexy and fun pin with Harley in the submissive role. I wish the compaion piece with Ivy in the submissive role did not have green round pasties which make her topless
Holy shit its hot
Probably the best thing I've bought
Great kinky bday gift!
Cute and sexy. Solid buld. Bday person Dug it!
Amazing
Probably my favorite piece on this site.
Bad Love is Good Love!!
My wife and I are due hard Harley Quinn fanatics, and these two are AWESOME!!
The pins are well made, the artwork impeccable. We both out them on our jeans jackets!!
Keep up the great work!!