---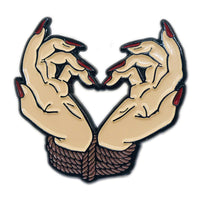 Solid quality pin
Love the feel of this pin
Femme and Sweet
I love this design and pin. The shipment came very quickly and the pin itself is lovely. The composition says exactly what I'm looking for about rope art: it's sexy, sweet, and beautiful.
Cute and Sexy
This pin had everything I was looking for--kinky playfulness with romantic overtones. Its colors are even better in person. :)
Bound by love
It's perfect! Worth every penny
Tied up
Bought this for my gf and she loves it. The pin is really high quality and everything you could have asked for. Would purchase again.