---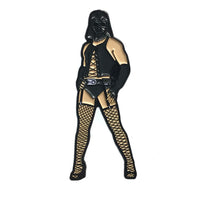 love them all
great pins so creative and amazing
Obsessed
Love it so much! Looks just like the picture, nothing wrong with it at all. So perfect
My second
I bought this a couple of years ago and my nephew liked it so much I gave it to him. So now I bought one for my self and a friend liked it so I gave it to her. So I guess I'll have to order another one. Maybe theard times a charm.
Cant get enough!
I've always like Rocky Horror and mixing it up with StarWars works so well! This pin is so creative.
Detail and quality is everything in these pins and that's why I always come back for more.
Love this pin
Absolutely love the Vader & Frank N. Furter mash up. So happy to own it