---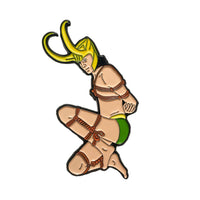 As a huge fan of Loki and shibari I needed this pin in my life. 10/10 would recommend.
Burdened With Glorious Purpose?
Finally, we know what that burden that he's always going on about actually is. Be careful! Clearly the type who's going to top from the bottom, and might slip his bonds if you don't tie them securely.
Great pins
This is a lovely pin and it gets lots of compliments