---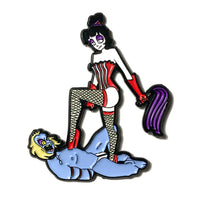 Too juicy? NEVER!!!!
I had almost forgot that cartoon until I seen this pen love the movies but couldn't hardly get into the cartoon thank you again as always very excellent product too damn cool sir!!!
Mistress Lydia
I bought this pin as a gift for a friend and I just know she'll love it! The perfect size and no flaws in the craftsmanship.
Always Excellent
I've been buying for G&K for years, and everything has always been top quality.
Amazing quality and service
All the pins are of amazing quality and design. I did have one get damaged in transit but they were quick to help me and replace it. Love their pin. I'll keep coming back