---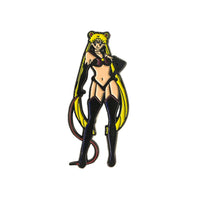 Obsessed
I love her. She loves me. We are in love. Really tho, the quality of G&K pins is unmatched! They're gorgeous and sturdy. 😏
Love it. Looks amazing with my others.
Yes please
Such a great pin! The colors are perfect and it's sturdy, so you don't have to worry about it catching and something breaking off of it. It has two pins on the back so it won't spin and it's SO CUTE. Do yourself a favor and get one of these!
Hilarious and awesome pin!
I saw the Mistress Moon pin at the Geeky and Kinky booth, and I had to have it for my Con Pack. I can't wait to show this off at the next convention I attend!