---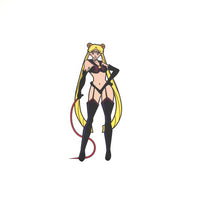 She is the one named Sailor Moon
Super cute sticker, its on a water bottle and has held up perfectly through a lot of washing.
Excellent Customer Service!
I ordered this sticker along with some other things and didn't receive the sticker. After contacting them about the issue, they sent me a whole set of stickers along with the one that was not previously shipped! Shipping was incredibly fast too!