---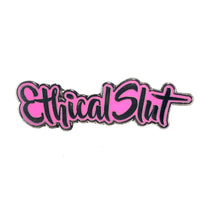 Perfect Tell
When I say I make a point to include this pin in my day to day life, I don't think that's an over exaggeration. Whenever I go somewhere new, I put my Ethical Slut pin on my bag or jacket, and man. Have some iconic convos been started due to it. The best way to tell if someone is a good option to befriend? Buy one of these, and if they laugh or ask where they can get their own, it's a win all around.
Love It
Perfect size! I put it on my backpack and it fits right in
Perfect!
I love the color and font. The size isnt small so definitely worth the money. The quality is also great no need to feel like it would bend or break easily.
Cool as Fuck
Great quality as usual. The geekiest, kinkiest and coolest pins EV-AH!
The first time I saw this, I knew I had to have it! It's a little small compared to the other pins, so it's great for some subtle flare.