---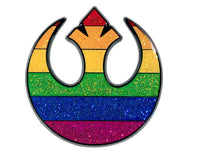 Glittery goodness
Just got this on my bag and it looks SO GOOD! I love that it's got two pins on the back so it doesn't spin at all. The colors look fantastic and have glitter like the pic but the glitter isn't on top so it's smoooooth. Perfect perfect perfect.
Rebel scum forever.
Love this, super shiny and well made, it's got a fantastic lil' place with all my other pride/Star Wars pins on my nerd bag.
Resist!
Queerdoes have always been in the front line of any Resistance, so why not show it? Had a great time flagging with this when I did a lightsaber demo at a convention recently.
Excellent
Great gift for the Prideful Rebel in your life :)