---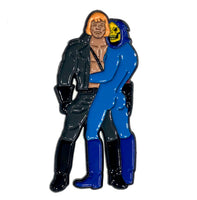 NOW WHAT! FREAKS!
Sooo sexy love this pin! This is the second time I have bought it! I had a big dick daddy from Cincinnati come work me over one night and I give it to him to remember me by! So this one I'm keeping for me.
A Modern Version of Eternia
I love it.
He-Man mixed with Tom Of Finland.
A very gay twist on a classic tv show.
The pin like all other's from Geeky and Kinkyis beautifully crafted and well worth the money.