---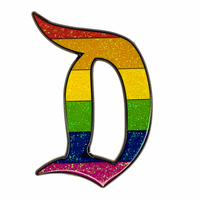 The BIG D
Proud to wear at D world of course! Easily recognizable in the mouse world. Love this Big D very well made and enviable. Love that I received the D! Actually love all the pins from G and K and hope to order more! Excellent customer service from Mr Kevin!
Always a pleasure...
Once again I've had the pleasure of purchasing PINs from Kevin at GEEKY AND KINKY PINS, and once again I shiver with antici - pation! of my new PINs being delivered. In the meantime, I can enjoy my last order. ALWAYS HIGHEST quality, ALWAYS Four for the Price of Three with CODE THANKS. Sign up for the newsletter and enjoy advanced purchasing. Speaking gain of the Quality; usually $10, most PINs are 2", your favorite Pop Culture Star in the kinkiest of kinky situations. Buy from Kevin, you'll never regret your decision.