---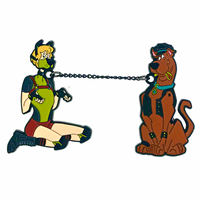 My puppy loves it
My pup loves Scooby-Doo as his favorite cartoon so to have this pin makes him so excited everytime he looks at it.
Love it!
I have no complaints whatsoever. They are very nicely made and great quality pins. I definitely plan on ordering more later on!
Awesome quality and perfect service!
The pins shipped lightning quick and when I got them, everything from the packaging to the backings to the actual pins themselves was perfect. I love the pins and wear them proudly.
Amazing pin!
I had been wanting the pin for a while. They are beautiful, fun, and good quality. Great service and great products! Can't wait to get more!
Oh! HELL YEAH! I WANT THAT TREAT!!!!!
Love the little chain and those details totally rock just keep staring at them HELP! As always man badass pins!!! Is there ever a chance you'll be doing a pin with snaggle puss after he exits stage left? You know he gets geeky and kinky! A buff snaggle puss with some blacked out aviators! Gotta be smoking too!! Sorry can't help it. Hope your birthday is kickin' bud!