---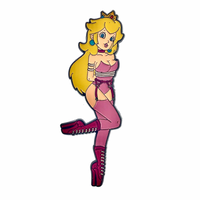 Beautiful
I love this pin and it has easily become one of my vorites. The quality and sizing of these pins make them worth every penny! i love this!!
As lovely as a princess!
This pin is phenomenal & of great quality! I haven't even removed from its plastic as I'm trying to find the perfect spot for this kinky beauty.
Thank you!
Awseome pin!
Great design, well made, and just an awesome pin!
Sick ass pins!
Just got this n a bundle, love the velma and daphne pins. Peach pin was a nice bonus! High quality and swell designs.
Peach has a good spot now lol
Knocked it out of the park!
Thank you
Pins are good quality. Love my order